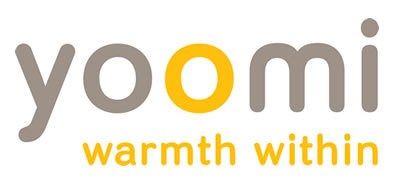 I have read various testimonials on the internet and seen many a conversation on Twitter about the Yoomi Feeding System, but have always wondered if it is really as good as everyone says it is. As many of my readers will already know, Riley was born 10 weeks prematurely last November and consequently was fed expressed breast milk by NGT (nasal gastric tube) for the first 4 weeks of his life. When the time came to introduce bottle feeding, we encountered numerous problems and had to try every brand out there to find one he would take to. Eventually we discovered MAM anti-colic bottles with an orthodontic shaped teat which were fantastic (if not a tad on the expensive side) and they have served us well, but we are always looking to try new things so when the opportunity came up to test the
Yoomi 8oz Feeding System
we jumped at the chance!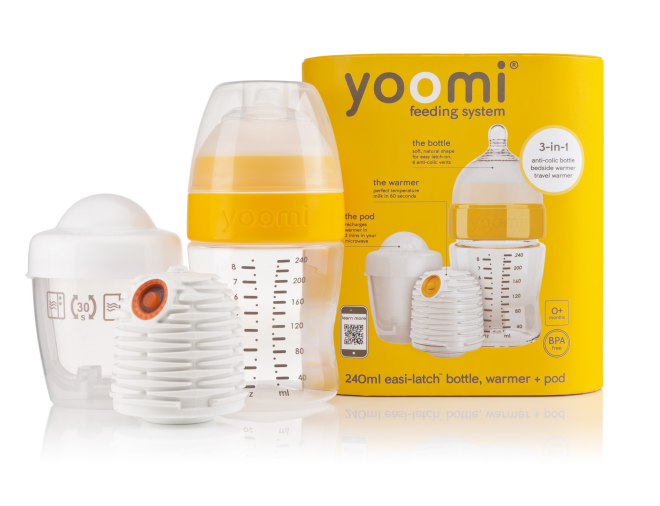 Yoomi's Story
Yoomi
are a London based company created in 2009 by husband and wife team, Farah and John. Their own personal experiences of late night bottle warming and lack of facilities when out and about inspired them to look for an alternative and better solution. Working as a team, the pair combined Farah's inspiration and Jim's engineering skills, together with expert advice and help from family/friends to turn their dream into a reality - the Yoomi Self Warming Bottle was born!
Yoomi's Design - The Clever Bit
The Yoomi bottle contains a unique warmer that is activated by pressing the orange button. This triggers the internal solution to warm the unit in just 60 seconds. The cold feed is then gently warmed as it flows through the specially designed channels and by the time it reaches the teat, it is at natural breast milk temperature.
N.B. The warmer needs charging before use and this can be done up to 150 times before the unit needs replacing.
The Yoomi Feeding system is perfectly safe and has undergone rigorous testing by industry experts to ensure it meets the highest possible safety standards. All Yoomi parts are 100% BPA free and non-toxic. As an extra precaution, a food colourant has been added to the gel contained within the warmer to ensure that any leaks are visible.
Yoomi's team of highly skilled engineers and designers have developed a high performance baby bottle that gently warms baby's feed to the right temperature, quickly and safely. Parents can feel at ease knowing that the bottle's design and safety features make it impossible for your baby to be exposed to unsafe temperatures from either the bottle or the warmer.
Additionally, the six anti-colic vents allow air to pass out of the teat rather than bubbling through the feed when baby drinks. This can help to prevent colic and offers a relaxed and comforting feed.
Our Thoughts And Verdict
The
Yoomi Feeding System
came in a neat little storage box, complete with clear and concise instructions. The 8oz feeding set contains:
*1 x 8oz feeding bottle
*1 x Yoomi warmer
*1 x Yoomi pod
*1 x medium flow teat
One of the best things about the Yoomi bottle is that it can be used on its own or with the warmer and all accessories/bottles across the range are interchangeable. The bottle itself is of a very generous size and you can easily fit a whole 8oz feed in it, which is not always possible with other brands. It takes no time at all to assemble and is very easy to use.
Another positive thing about the bottle is it's shape, which makes the bottle comfortable and easy to hold when feeding. Additionally, the teat has a natural feel and shape to it so perfect for breastfeeding mothers looking to start combination feeds or for assistance with transition from breast to bottle.
I would highly recommend this product to all mums as it's not only great for those late night feeds but is also handy for when you're out and about too. No more pleading with restaurants etc. for some hot water. It really is a fantastic invention and i only wish i'd known about it back in the early days.
The
Yoomi 8oz Feeding System
is available to purchase for £24.99
Disclosure: I was sent a Yoomi 8oz Feeding System for the purpose of this review but all views and opinions expressed are honest and entirely my own.